"There is nothing like staying at home for real comfort." (Unknown source). The quote beautifully depicts the magic of home. Home is the place we feel most secure, most loved, most cared for and above all, at comfort. Home healthcare in Dubai seeks to provide wide range of health care services at the comfort of patient's home in case of an illness or injury. Health care given at home speeds up the recovery in the patients and it is usually less expensive, more convenient and just as or perhaps even more effective that the health care you would get in a hospital or skilled nursing facility.
Call Doctor UAE is a prominent name in registered healthcare agencies providing home healthcare in dubai. We have a team of expert doctors, nurses and physiotherapists are well equipped with to provide premier healthcare right at the comfort of your home, hotel and offices. All our staff is registered with Dubai Health Authority (DHA).
What health care services can be provided at home?
Call doctor team of experts is at your beck and call to provide home healthcare services in Dubai. Though the range of home healthcare services a patient can request for and receive is limitless, depending on the individual patient's situation, care can range from doctor's consultation and nursing care to specialized health services. For example one can avail specialized medical services such as laboratory workups and pathology. Home healthcare services provided by Call Doctor UAE may include:
Doctor's Consultation in home healthcare services
On your call a Call Doctor's specialist will reach your home within 30 minutes to diagnose and treat the illness(es). Further, Doctor will decide subsequent visits based on the need for review and follow up the patient. Our team will be your companion on your road to quick recovery.
Nursing Home Healthcare Services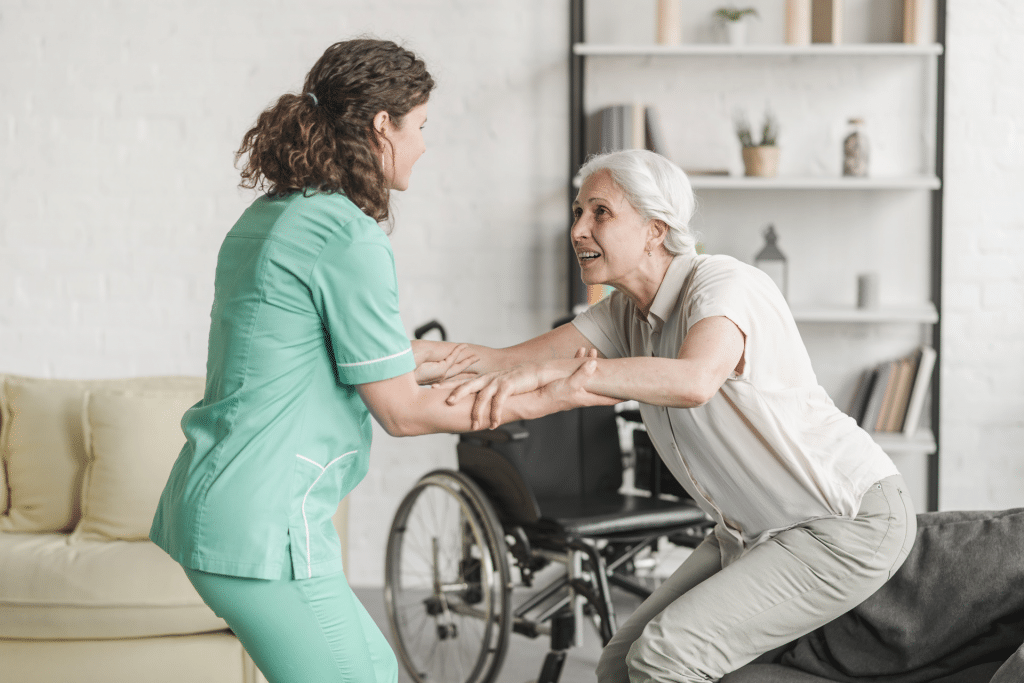 The most common form of home healthcare in Dubai is nursing care. It completely depends on the patient's needs. In consultation with a doctor from Call Doctor's team, a registered nurse from our team will set up a plan of care. Nursing care includes, wound dressing, Elder Care, Child Care, Assistance in ADL, Post-Operative Care, Medicine Administration, Injection Services etc. Additionally it also consists of monitoring the general health of patient, pain control, and other health support.
Physical therapy (physiotherapy) at your home
In the aftermath of an illness or injury a patient may need help rehabilitating or relearning how to perform daily duties and improve muscle and movement control. A licensed physical therapist or physiotherapist can put together a plan of care to help patients. We have a range of articles on how physical therapy can help ease pain in finger arthritis and knee arthritis.
With physiotherapy sessions at home patient can regain control over his muscles and joints. Above all, at home you can speed up your recovery with Call Doctor's physiotherapist.
Laboratory test and X-ray imaging
Certain laboratory tests, such as blood and urine tests, can be performed in the comfort of the patient's home. In addition, our can team can provide X-ray imaging services in specific cases with portable X-ray machines at patient's home. Most of the tests that Call Doctor's specialist prescribes, can be performed right at the comfort of patient's home. After the laboratory testing, the results of these test will be delivered to the patient and a doctor will follow up with a visit to assess the results and plan further treatment.
Training for use of medicines or an equipment
If the patient needs, Call Doctor's staff can provide training on how to take medicines or use an equipment, including intravenous therapy.
Why Call Doctor UAE for home healthcare?
Call Doctor is a multi-specialty mobile and home healthcare company embodied by experienced staffs including General Practitioners, Referring Specialists, Registered Nurses, Registered Physiotherapists, and Call Center Executives. With competent teams and millions of seed capital, it has successfully proven its quality of services and further enhancing their accessibility in Dubai.
We have more than 10,000 satisfied customers in hotels and homes. Our goal is to help you:
Get better
Regain your independence
Become as self-sufficient as possible
Maintain your current condition or level of function
Provide premium healthcare services